This is a truly outstanding list of marketing ideas that could apply to almost any business, although in this case these are ideas for marketing a listing of a property
Stolen from https://fitsmallbusiness.com/real-estate-marketing-ideas/
This is the most obvious one, obviosuly
This is a good one. Many people want to know what their property is worth, and you are offering this service to them for free, and you make it automated, so it won't suck you into time-consuming projects. So a win-win.
Create Subdivision Website Pages
I am not sure about this one, looks like alot of work, especially if you have to market several subdivisions
This one is also alot of work, and only a tiny section of your mailing list will see it, so I am not 100% sure ROI will be as good as on some other initiatives
Employ Google AdWords
This one is another one that I am not sure how it really pays off. So many other people are using the same adwords. I never found adwords to be all that useful in my previous marketing attempts.
This one seems to be pretty obvious. A 30-sec value statement should be the must on the landing page at the minimum
Host Local Neighborhood Tours
I am not sure about this one, sounds like alot of trouble, and alot of the tour (like traffic congestion, weird things happening, etc) are outside of your control during the tour. But it might be worth trying a time or two.
Livestream Your Agency's Day to Day
Kind of like a reality show. I am not sure who would have the time to watch an agency day-to-day, most people who are working probably have better things to watch. But it might be worth a month try.
Use Decor to Set Your Listing Apart
The decor has a funky item that is easy to remember even after many houses have been visited. Serves as a memory tool for the buyers.
Ok, sure. It is almost like saying "Optimize your web page." Good idea that most people would probably ruin with a bad execution
Ok, another bland idea, but a good reminder about the basics

Highlight Homes With Professional Photography
People think in pictures, and feel in pictures, and dream in pictures. So yeah, this one should be the basics, I think.
Send Postcards That Are 'Fridge-worthy'
This is an excellent suggestion about the types of topics to cover in your mass mailing. Make the ad of the company a tiny thing at the bottom, but a big important thing in the body. Do it regularly enough, and they will start looking forward to those postcards, I think
That is a topic of a whole different discussion, but sure, let's not forget to get to strategize on this.
Yes, emotions eat logic for breakfast. Get emotional juices flowing, but how? Another interesting topics of research.
Use Strategic PR to Stay Relevant & Build Authority
They suggest using Help a Reporter Out (RARO) web site. I would need to see a more detailed strategy for that one, as it might be time-consuming and has too wide of an audience
Duh. But it is a good reminder to check out new classes from your local RE associations
Showcase Your Charitable Side
A good idea, I thought about the ways to do it myself, but I think it is such a long-term project that a good base of other cash-generating ideas is needed to execute that one consistently year in and year out. People forget quickly.
Create a Blog That Answers Client Questions
All blogs are pretty time consuming, and are lost in the noise quickly unless they provide serious valie. So, this might be a good add-on, but not the main vehicle.
Seems more like a plug-in for a vendor than a real suggestion, but sure. The more images and the different-er and richer the images, the better. I have a feeling there are a ton of other sites that can help with the virtual staging process.
Stand Out With Handwritten Notes
Sure, if your buyers can read your handwriting.
How is this not a repetition of like 5 previous suggestions? C'mon, FitSmallBusiness! Stop feeding us gruel.
Grow Your Network With Regular Events
Again, good old basics (happy hours), but probably could be worth refreshing on. Do them only if you have a budget and the attendees are pre-qualified. Otherwise – networking not necessarily converts to sales.
Probably a good suggestion, with some work, one-time effort can pay off
I would give it a shot just to see what the engagement is really like, but I would not hold high hopes for that one. How many videos of yours will they want to see? Everyone is busy.
Oh, I LOOOOOOVE this one. Just check it out: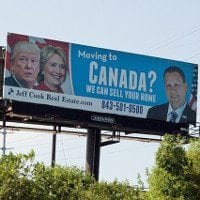 Bring the Open House to Clients
A good idea, if your clients are tech-savvy enough to utilize this technique to the fullest, or to know what an iPad is. I would think of a different prize if I was the realtor. Something all ages and OS-fans could find attractive.
Harness the Power of Cold Calling
Really? Really? This is the ground-breaking thought of the day?
Goes hand-n-hand with the "fridge worthy" suggestion. But – lots of work and research and paying someone for design, for a subliminal message that may or may not hit the target when they ARE ready to buy or sell. This is not an immediate conversion type of idea, so do it only if you have the time and budget to make long term moves like that.
Uh, ok. Sure. If you have a web site at all, I recommend just a good web designer. Let him or her tell you more good tips like that.
Use Retargeting Campaigns to Drive Traffic Back to Your Site
Seems like a full-time web designer will be needed, unless you want to spend your time generating web pages and tracking moves.
I am not 100% sure I understood this advice at all, so I am not going to comment.
Utilize Snapchat for Real Estate Marketing
Ok, ok. Can we just make a separate post for all social media strategies and keep everything together in THAT post?
Good idea, I am sure there is a lot of literature on that online
I would give that one a shot for a quarter or two to see if this leads to real results
Grrr. More ways to stock poor prospects everywhere they go. A good way to become annoying I think
Invest in Your Community to Generate Strong, Top-of-Mind Referrals
Community events, charity events – I already commented on this. Those are a long term strategy. People forget so quickly. I would go for more immediate and direct approaches first.
Making ANYTHING viral is an art and a science in its own. I would not count on any one of your videos becoming truly viral. Plus, viral videos are by definition not targeted. It might be viral, but is it seen by people in my geographics are who are currently looking for THAT type of house?
Set Up Local Community Pages
I would need to see that executed in practice to buy that this is a good investment of time, but ok, anything could be good to try out
Craft a Personalized Message for Your Buyers
Sure, why not. This is more of a small technique rather than a strategy, and hopefully not the only technique in his toolbelt.
I think a logo won't do much difference if you have no TRAFFIC to your side. Logo is not going to make or break the sale. It might be just a tiny, tiny, tiny grain than tips the scales in your favor.
Create a Video Series to Share With Leads
That is actually a good one, provided that your audience is tech savvy to view them. But it is a time consuming and not targeted, much like the viral video suggestion
Optimize Your Listing Photos
I thought it was already covered by like, 5 other suggestions?
Make Your Website Your Storefront
Jesus Christ, is this the Ground Hog Day? I thought we have been through this already? Get yourself a web designer who knows what to do for modern viewership
Leverage Influencer & Community Marketing
This is actually another good one. Just a few quotes

…..reach out to local bloggers and Instagram influencers — whose followership matches your target buyer — and have them create related content and share it with their followers. 
Also, you can partner with a business in the community to host an event at [a property you're selling] to gain publicity and get foot traffic. For example, if the space is great for showcasing art, you can partner with a local gallery to host a "gallery night" in the property and invite anyone you can to the property.
Obviously, this is something that requires a ton of planning and collaborations, so it will come with its own costs. But worth a try.